Kiddos Day Camp
Summer 2019 Info
DAY CAMP WEEKS 1-5 ARE 100% BOOKED (No Waitlist Available)
Week 6 (July 1-3) does have a few spaces remaining as of April 29.
We are excited to filled 150 spots at Kiddos Camp This summer! We know it filled quickly and regret not being able to have any wiggle room for even our long time campers. For next summer....Please be sure to do Early Registration by March 10, 2020 for our 10th Year of Day Camp!
**If you are registered for at least one week you are eligible to do a Daily Drop-In Any Week, even if weekly spots are Full. **

For ALL students entering grades Kinder-4th for 2019/20 School Year!
Camp Location 2019: E. RIVERS| 8 Peachtree Battle Ave. Atlanta 30305
Camp Dates: May 29 to July 3 | *Closed Mon & Tues 1st week.
Camp Hours: Camp Day 9a - 2:30p | Before Camp 7:45-9a | After Camp 2:30-6p
FLEXIBLE Enrollment: Weekly or Daily
*** We are not having Kiddie Camp this year so all those entering Kinder will rejoin Day Camp! We will consider rising Pre-K if older sibling is attending and if they can survive with no nap, email for info.
***Day Camp Full week Registration closes the Wednesday prior to the start of the each week. BUT You can still come to DAY camp as a Daily Drop In and pay cash.
What goes on at Kiddos Day Camp...
You can choose to come for Camp Day or Extended Camp. Each day is broken into Specials, Activity Choices, Free play, and Lunch! As of January we will have planned 650 activities!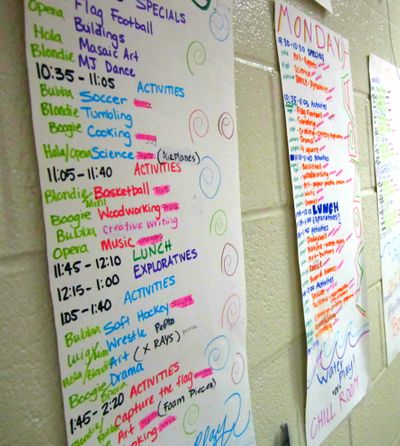 SCHEDULE
7:45-9:00: Before Camp- Complimentary
9:00-9:20: Carpool - Camp Day Drop Off
9:30-10:30: SPECIALS - Week long, skill/project
10:35-11:15: ACTIVITY Period 1 - 6 Activity Choices
11:20-12:05 ACTIVITY Period 2
12:10-12:40: Lunch (PEANUT FREE!)
12:45:-1:20 ACTIVITY Period 3
1:20-1:55 ACTIVITY Period 4
1:55-2:30 ACTIVITY Period 5
2:30-2:40: Carpool - Camp Day Pick Up
2:30-6:00 After Camp - Activities/Enrichment
(ON FRIDAYS WE WORK IN PERFORMANCES AND AN 18 FOOT WATERSLIDE!)
CAMP DAY (9-2:30pm)
The camp day begins at 9:00 am. After being signed in, Campers will begin their fun filled day with freeplay on the playground. The Specials that week will start right at 9:20 am and after that we have a day packed with awesome activities. We always welcome parents to join us anytime. We encourage you to come in the 1st day of camp to meet the staff and see what we are all about!
EXTENDED DAY (Before 7:45 -9:00, After 2:30-6)
Extended Day offers before camp complimentary from 7:45 am - 9:00 am and allows your camper to stay after camp from 2:30 until 6pm for an additional fee. In the morning, campers will begin the day with free time. We offer computers, crafts and free play in the gym or outside. After Camp is a great time for unwinding from a busy day. The campers will be given a snack and there will be activities and games planned. (If attending five weeks or more get a great discount on After Camp!)
ACTIVITIES
There are five, 40 minute, activity periods during the camp day. Kiddos Campers will all come together before each period, hear which six activities are offered each activity period and choose what they want to do! Activities include:
Sports, Science, Theater, Music, Wood Working, Gymnastics, Art, Cheer, Cooking, Talent, Creative Writing, Nature, Jewelry Making, Lots more sports, Yoga, Board Games, Wrestling, Dance, Commercial Acting, Joke Telling, Reading, Gardening, Community Service, Sing it, Parkour, and Backyard style Water Play!
SPECIALS
A long term project/skill that campers work on for one hour each day all week. This year, Specials are chosen by Campers on the Monday they arrive. Every session will have five special choices and there is sure to be something everyone will enjoy!
FUN FRIDAYS
We love our Giant 18+ foot water slides on Fridays! Fridays will also be a chance for campers to showcase some things they have done. Needless to say, FRIDAYS WILL BE A LOT OF FUN!
LUNCH
Campers bring their PEANUT FREE lunch everyday! Counselors and campers eat their lunch at the picnic tables. We provide lemonade and water (we suggest water bottles to keep kids hydrated!).