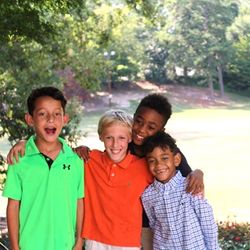 SPRING 2018 REGISTRATION
Registration is December 1 - January 12. **No Payment will be taken until January 5th.
You Can Pay in FULL on January 5th or Pay Half January 5th/Half March 1.
All registration between January 13 -18 will incur a $25 late fee per class. Scholarships are available! Email info@kiddosatlanta.com
FOR THE SAFETY OF OUR KIDDOS THERE ARE ZERO NEW REGISTRATIONS AFTER FRIDAY, January 19. NO EXCEPTIONS.
Classes START on January 22 and END on May 10, 2019.
There are no classes when school's out.
*You do not have to be in After School to participate in classes.
*In order to maintain a quality staff and program an inclement weather day will be made up the week of May 13-17, Any additional weather cancellations we are not able to issue a makeup class or refund.
Spring Schedule 2019
Mondays: Chess (K-5), Art (K-5), Drama (K-5)
Tuesdays: Karate (PreK-1), Blue Heron(2-5)
Wednesdays: Karate (2-5)
Thursdays: Kidz Tennis (PreK-5), Video Game & Coding (3-5)
Fridays: Gymnastics ( PreK), 5 Star Sports (K-5)
2018/19 CLASS DESCRIPTIONS
ART: (K-5th) Fridays, 2:30 - 3:45 | 13 Fall Classes, $265 | 12 Spring Classes, $ 247
Come and Learn, Explore and Create with ART'S COOL Art Education. We are an art program designed for elementary school age students. We study an artist or technique each week with time to create our own original artistic impression of what we discuss. Students will work with various materials such as paints, watercolors, oil pastels, colored pencils, markers, chalk and more. Available Fall and Spring.
BLUE HERON OUTDOOR EXPLORER: (K-3rd) Tuesdays, 2:30-3:45 | 13 Spring Classes, $210
An expert BLUE HERON NATURALIST will help children make exciting finds out in nature and learn how to explore safely. By spending hands-on time in nature exploring geology, bird watching, insects, seedlings, and more, children will learn to care for living things and build their own scientific understanding of the natural world through discovery, observation, and experimentation . Every session will include a related art-related activity. Available in the Spring Only.
CHESS: (K-5th) Mondays, 2:30-3:45 | 13 Fall Classes, $240 | 11 Spring Classes, $208
This Session is open to all students interested in learning to play chess as well as those who already play! We teach fundamentals of chess in a step by step approach that highlights the strengths of each piece and how they work together. Then we teach the tactical and strategic principles and have fun applying them! Kids that play chess score better on standardized tests and achieve better grades overall. Smyrnachess@yahoo.com. Available Fall and Spring **Spring Chess Starts January 7 & No class March 4**
DRAMA: (K-5th) Mondays, 2:30-4PM | 14 Fall classes, $255 | 12 Spring Classes, $238
Join LET'S PRETEND where children K-5 learn to communicate effectively, think creatively, build self-esteem, develop mental discipline and hone their teamwork skills. In Let's Pretend your child will experience the magic of theatre in a supportive and fun atmosphere! This innovative and educational program is designed to challenge both beginners and more advanced students by focusing on audition techniques, character development, improvisation, monologues and scene work. Then at the end of the semester our young actors will enjoy the ultimate excitement of performing onstage in front of a live audience. Don't let your child miss this opportunity to explore the wonderful world of imagination, guided by seasoned professionals. Classes fill early so register now! Available Fall and Spring.
FILM MAKING: (3-5) Thursdays, 2:30-4:30 | 14 Classes, $300
KIDS TV is Atlanta's #1 after school film class for kids. During Kids TV, students learn professional camera, lighting and production techniques from professional filmmakers as they work as a team to bring their story ideas to life. The students produce, film and star in their own video projects. At the end of the semester, family and guests are invited to a movie premiere. Check out some past videos at: http//kidstv.mobocproductions.com Available in Fall & Spring.
GYMNASTICS: Fridays, 2:30-3:45 | 14 Fall Classes for K-3, $245 | 14 Spring Classes for PreK, $300
NEW CLASS!! MY GYM STATION will offer gymnastics this year at Garden Hills Elementary! Students will learn step-by-step skill progressions in a safe and fun environment. Our gymnastics instructors will use balance beams, bars, vaults, and tumbling to help kiddos increase their strength and flexibility. Available in the Fall & Spring
KARATE:
(PreK-1) Tuesdays, 2:30-3:45 | 14 Fall and Spring Classes, $310 (+$20 for Uniform)
(2-5) Wednesdays, 2:30-3:45 |14 Fall and Spring Classes, $310 (+$20 for Uniform)
POWER UP teaches students coordination, healthy living and discipline. We have a trained staff of patient instructors who love to work with children, but are also very clear about limits. We enforce good rules of behavior in class, and we expect the same good behavior at home and in school. Available Fall and Spring.
STREM: (2-5) Tuesdays, 2:30-3:45 | 14 Fall Classes, $267
Get your children involved in Science and Technology with our productive and fun activities filled programs with benefits that will last a lifetime! STREM (Science, Technology, Robotics , Engineering, Mathematics) classes are Project based programs with problem solving approach, designed to teach students engineering and technological skills. Students learn Programming logic using tools such as MIT Scratch & Microsoft's Kodu. Students improve their Creativity and Problem Solving Skills and have fun by creating arcade games such as Car Racing & Dance Party and others. Class are designed to challenge beginners and more advanced students! Available in Fall Only.
TENNIS: (PreK-5th) Thursdays, 2:30-3:45 | 14 Classes, $287
KIDZ TENNIS offers a class that helps to develop coordination, good sportsmanship, friendships, and achieve excellent physical fitness. This mobile-court program incorporates all of these elements into the program to provide each child with these great life-long skills and benefits. Our mobile program is set up on-campus using:
1) Portable junior sized nets & smaller rackets which are provided for use.
2) Foam and Low compression tennis balls that bounce lower and slower for rapid development.
3) A fast-paced curriculum that creates a fun environment while the children the game.
4) Our method of grouping of children by age and ability for maximum fun & development.
In addition to these great things, Kidz Tennis has other great benefits, including:
1) Providing safe, fun, physical activity for your child.
2) Improvement of balance, coordination and agility.
3) Convenience for the Parents.
4) It is one of the only sports that truly lasts a lifetime.
Available Spring and Fall
5 STAR SPORT: (K-5) Fridays, 2:30-3:45 | 14 Classes, $250
Peachtree Pres Gym will focus on 5 different sports, such as Basketball, Baseball, Flag Football, Soccer, and Kickball. Children will learn fundamentals and rules of these sports, while also focusing on sportsmanship and teamwork. Whether your kiddo is a fantastic athlete or a curious beginner, they will be challenged and engaged each week! Available Spring and Fall.
**NEW** VIDEO GAME & CODING: (3-5) 2:30-3:45 | 14 Classes, $343
Bricks4Kidz has created Coding and Video Game Design program that teaches students foundational coding skills in a fun medium of creating their very own video games.
They'll learn strategies to enhance their logic and problem-solving skills, as well as help them work toward becoming technological innovators of tomorrow!
offers a skill level progression of coding concepts, helping students progress through different stages of learning and practice through creating new and exciting video games throughout the semester.
Students get to take home their very own video games at the end of the semester!
We do offer partial scholarships. For Information please email Info@KiddosAtlanta.com by Friday, January 12.