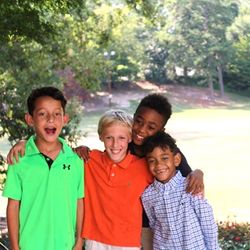 FALL 2022 INFO
REGISTRATION IS July 22 - August 12 , 2022

**********MANY CLASSES WILL FILL SO DO NOT WAIT TO REGISTER**************

All registration between August 13-21 will incur a $25 late fee per class. Email info@KiddosAtlanta.com. NO REGISTRATION AFTER August 21. NO exceptions.

You Can Pay in FULL or Pay Half at registration and & Half October 1st.

Scholarships are available... EMAIL info@KiddosAtlanta.com to inquire by August 12.

CLASSES ARE FROM AUGUST 29th - DECEMBER 2nd.

There are no classes when school's out.

You do not have to be in After School to participate in classes.

In order to maintain a quality staff and program any additional inclement weather days will be made up the week of Dec 5th, If any additional weather cancellations happen we will not make up the days or provide a refund.
Please note Extracurricular Classes are not run by Kiddos Atlanta LLC, Kiddos Atlanta simply handles the registration to streamline for the school. Each Class is owned and operated by individual companies.
FALL 2023 CLASS DESCRIPTIONS
ART | K-5 | Mondays, 2:45 - 4:00 | 11 Classes | $325
Come and Learn, Explore and Create with ART'S COOL Art Education. We are an art program designed for elementary school age students. We study an artist or technique each week with time to create our own original artistic impression of what we discuss. Students will work with various materials such as paints, watercolors, oil pastels, colored pencils, markers, chalk and more. For more info on the class contact artscoolart@gmail.com
CHESS | K-5 | Fridays, 2:45-4:00 | 12 Classes | $225
This is open to all students interested in learning to play chess as well as those who already play! We teach fundamentals of chess in a step by step approach that highlights the strengths of each piece and how they work together. Then we teach the tactical and strategic principles and have fun applying them! Kids that play chess score better on standardized tests and achieve better grades overall. Smyrnachess@yahoo.com.
FILM | 2-5 | Wednesdays , 2:45 - 4:30 | 12 Classes | $297
Kids TV is Atlanta's #1 after school film class for kids. During Kids TV, students learn professional camera, lighting and production techniques from professional filmmakers as they work as a team to bring their story ideas to life.
SCIENCE IN SPANISH | K-5 | Thursdays , 2:45-4:00 | 12 Classes | $270
Club SciKidz is offering Science Class where students get to use their Spanish! Kids will practice measuring, critical thinking, the scientific process, hypothesizing and more. All Club SciKidz instructors are highly qualified and will bring all supplies. This semester will focus on saving our oceans, clean energy and flying a kite. Including working on their own mini wind turbine, water filtration apparatus and so much more!
One Semester of Spanish Dual Immersion is required
SOCCER | 1-3 | Tuesdays, 2:45-4:00 | 11 Classes | $287
The 411 SOCCER ACADEMY is a structured program for boys and girls designed to teach the fundamentals of the sport as well as develop an interest in the game. Instructors will teach the core elements of the sport that will include, dribbling, trapping, passing, ball control and shooting. As with all sports, we believe soccer has the ability to teach various life lessons including teamwork, dealing with adversity and sportsmanship. Our goal for this program is to assist in developing your child to become a better athlete on the field and leader in the community.
We do offer partial scholarships. For Information please email Info@KiddosAtlanta.com by August 12.