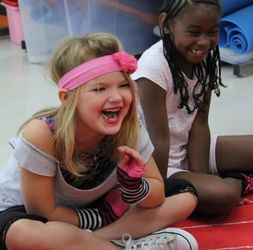 SPRING 2018 CLASSES
Registration is December 1 - January 12. **No Payment will be taken until January 5th.
You Can Pay in FULL on January 5th or Pay Half January 5th/Half March 1. Scholarships are available!
All registration between January 13 -18 will incur a $25 late fee per class. Email info@kiddosatlanta.com
FOR THE SAFETY OF OUR KIDDOS THERE ARE ZERO NEW REGISTRATIONS AFTER FRIDAY, January 19. NO EXCEPTIONS.
Classes START on January 22 and END on May 10, 2019.
There are no classes when school's out.
*You do not have to be in After School to participate in classes.
*In order to maintain a quality staff and program any additional inclement weather days will be made up the week of May 13th, If any additional weather cancellations happen we will not make up the days or provide a refund.
SPRING 2018 SCHEDULE
Mondays: Gymnastics (K-3), Golf (K-5)
Tuesdays: Tennis (Pre.K-5), Tap/Ballet (K-2), STREM (2-5)
Wednesdays: Soccer (K-3), Film Making (3-5), Art in Spanish (K-3)
Thursdays: Drama (1-5), Bricks 4 Kidz (K-2), Gymnastics (PreK)
Fridays: Chess (K-5), Guitar (2-5) Karate (Pk-2)
2018/19 CLASS DESCRIPTIONS
ART IN SPANISH: (K-3) Wednesdays, 2:30-3:45 | 14 Fall Classes, $295
NEW CLASS! Don't just learn Spanish, experience it! We explore the language and culture of Spanish-speaking countries learning and creating original art works, all in a warm and supportive atmosphere.
In the fall we'll explore the art and culture of four countries (Spain, Mexico, Puerto Rico, and Argentina) including art movements and artists from each country. The semester will include both cooking projects and art projects using many different media such as ink and watercolor, sculpture (using up-cycled materials), acrylics, clay, fibers, and more.
This class is a Spanish immersion class and is for beginning learners as well as native speakers. More information at www.spunkyarts.com. Available in the Fall only.
BALLET/TAP: (K-2nd) Tuesdays, 2:30-3:45 | 14 Classes, $285
Tap Ballet is a great class for the young dancer who wants to learn the fundamentals of both Tap and Ballet. Classes touch on both warm-up and technique of both disciplines, as well as proper arm, leg, and foot positions. Studio Go's Tap Ballet program is a progressive program that introduces more complex technique and patterns of movement to challenge the elementary student. These classes are perfect for both beginners and the more serious dance student. Our teachers are prepared and evaluate where each student is at to make sure that all students are both comfortable and challenged at the same time.
Dress Code: Girls: Black leotard, pink tights, pink ballet shoes, and black tap shoes. Skirt is optional.Boys: White top, black shorts/pants, black ballet shoes, and tap shoes. (Please label all dance attire with First & Last name.)
Available in Fall and Spring.
BLUE HERON NATURE: (K-3) Tuesdays, 2:30-3:45 | 14 Fall Classes, $210
NEW CLASS! An expert BLUE HERON NATURALIST will help children make exciting finds out in nature and learn how to explore safely. By spending hands-on time in nature exploring geology, bird watching, insects, seedlings, and more, children will learn to care for living things and build their own scientific understanding of the natural world through discovery, observation, and experimentation . Every session will include a related art-related activity.
Available in the Fall only.
BRICKS 4 KIDZ: (K-2nd) Thursdays, 2:30-3:45 | 14 Fall Classes, $269 | 14 Spring Classes, $269
Come one, come all! Bricks4Kidz's iconic LEGO Club class is back at E. Rivers! Come join us in in building jaw-dropping, awesome and head-spinning LEGO models! In LEGO Club, children are introduced to our basic "Project 1 Kit", with which they are able to build any of our over 1,000 different proprietary models from our over 200 unit-themes. Want to go to outer space? How about an amusement park? The adventure begins at Bricks4Kidz where they will build models in our Mission 2 Space, Ticket to Ride, and other fun unit-themes. Watch with amazement as children build complex, motorized lego models while learning interesting concepts such as gear ratios, laws of motion and much more! Each child will have the chance to create his or her own mini-figure that they will take home at the end of the session! Available Fall & Spring.
CHESS: (K-5) Fridays, 2:30-3:45 l 14 Fall classes, $255 | 15 Spring Classes, $270 **2nd Hour from 3:45-4:45, $100**
Championship Chess is open to all students interested in learning to play chess as well as those who already play! We teach fundamentals of chess in a step by step approach that highlights the strengths of each piece and how they work together. Then we teach the tactical and strategic principles and have fun applying them! Kids that play chess score better on standardized tests and achieve better grades overall. Come join the chess club that has fun each week in class and participate in local, state and national tournaments.
We offer a skill based 2nd hour for those who know the fundamentals and want more time to play and build their skills. Smyrnachess@yahoo.com
Available Fall and Spring.
*Spring Classes start January 11 & No class March 4
DRAMA: (1-5th) Thursdays, 2:30-4:00 l 14 classes, $285
Have a budding actor or actress at home? Then have them join our drama class taught by professionals from The Atlanta Children's Theatre! Young actors develop their acting skills through fun drama games, improvisations and plays. A fun and nurturing environment is created where children are always center stage and their creativity is celebrated! Class will culminate in a performance for family and friends. www.atlantachildrenstheatre.com
Available Fall and Spring.
FILM MAKING: (3-5th) Wednesdays , 2:30-4:30 l 14 Fall classes, $345
Kids TV is Atlanta's #1 after school film class for kids. During Kids TV, students learn professional camera, lighting and production techniques from professional filmmakers as they work as a team to bring their story ideas to life. The students produce, film and star in their own video projects. At the end of the semester, family and guests are invited to a movie premiere. Check out some past videos at: http//kidstv.mobocproductions.com
Available Fall and Spring.
GUITAR: (2-5) Fridays, 2:30-3:45 | 14 Classes, $297
NEW CLASS!!
Guitar Club gives students the chance to get their hands on a "real" guitar and play exciting music with their friends! Using the Tree-year, 3-tier curriculum, students will learn a range of songs. Our passionate teachers will help students with their string/finger dexterity and also understand the fundamentals of playing guitar... all while having a blast!
Available Fall and Spring.
GYMNASTICS: (K-3) Mondays, 2:30-3:45 | 13 Classes, $245
NEW CLASS! Students will learn step-by-step skill progressions in a safe and fun environment. Our gymnastics instructors will use balance beams, bars, vaults, and tumbling to help kiddos increase their strength and flexibility. Whether your child is a young gymnast or a curious beginner, they will build upon skills in order to understand the fundamentals of gymnastics in a super fun way!
Available in Fall & Spring
GOLF: (K-5) Mondays, 2:30-3:45 | 12 Spring Classes, $261
Golf is offered in a progressive format for children and is taught by the Kidz Golf Team. This is a youth golf training program in which children are introduced to the game, the shots, the terminology, the swing, the rules and the fundamentals of the game. The primary shots in this program include putting, wedges, long irons and tee-shots. The program is designed to teach the game in a fun, safe and encouraging format!
All equipment is provided by Kidz Golf for use during the program.
Available only in the Spring
KARATE: (PreK-1) Fridays | 14 Classes $310
POWER UP teaches students coordination, healthy living and discipline. We have a trained staff of patient instructors who love to work with children, but are also very clear about limits. We enforce good rules of behavior in class, and we expect the same good behavior at home and in school.
Available Fall & Spring
KIDS RUNNING CLUB: (3rd-5th) Mondays | 13 Fall Classes, $210
The kids running club is based on the "Kids Run the Nation" Program developed by The Road Runners Club of America. It will be taught by a licensed Physical Therapist, avid runner, and mom with 3 kiddos under age 12. We will have a 13 week course which will focus on ten developmental principles that guide training, running, and racing for young distance runners. Most importantly we will focus on making running fun, developing good technique, participation and self-improvement, systematic training, nutrition and increasing workload gradually. We hope to promote a love of running in all the children.
Our goal is to run the E. Rivers' Fun Run together on October 28th. All that is needed to participate is "running" shoes (I can help advise on that too) and a good attitude!
Available in Fall Only.
SOCCER: (K-3rd) Wednesdays, 2:30-3:45 l 14 Classes $255
OverTime Sports Soccer is an active program for boys and girls designed to develop an interest in the game and establish a solid foundation in preparation for recreational or club soccer. We are able to accomplish this by making sure the number one ingredient is present at all times: FUNdamentals! Students will learn various elements of the game such as passing, trapping, dribbling, shooting, and ball control. The sessions are composed of exciting games such as Terminator, Sting Ray, and World Cup. It is our belief that soccer instills cooperation, teamwork, sportsmanship, and self-confidence, all of which are key components that transcend the playing field and impact the development of our children.
Available Fall and Spring .
STREM Programming: (2-5th) Tuesdays, 2:30-3:45 l 14 Spring classes $267
Get your children involved in Science and Technology with our productive and fun activities filled programs with benefits that will last a lifetime! STREM (Science, Technology, Robotics , Engineering, Mathematics) classes are Project based programs with problem solving approach, designed to teach students engineering and technological skills. Students learn Programming logic using tools such as MIT Scratch & Microsoft's Kodu. Students improve their Creativity and Problem Solving Skills and have fun by creating arcade games such as Car Racing & Dance Party and others. Class are designed to challenge beginners and more advanced students!
Only Available in the Spring.
TENNIS: (PreK-5th) Tuesdays, 2:30-3:45 l 14 Classes $297
Tennis is a great way to develop coordination, good sportsmanship, friendships, and achieve excellent physical fitness. This mobile-court program incorporates all of these elements into the program to provide each child with these great life-long skills and benefits. Our mobile program is set up on-campus using:
Portable junior sized nets & smaller rackets which are provided for use.
Foam and Low compression tennis balls that bounce lower and slower for rapid development.
A fast-paced curriculum that creates a fun environment while the children the game.
Our method of grouping of children by age and ability for maximum fun & development.
In addition to these great things, Kidz Tennis has other great benefits, including:
Providing safe, fun, physical activity for your child.
Improvement of balance, coordination and agility.
Convenience for the Parents.
It is one of the only sports that truly lasts a lifetime.
Available Fall and Spring.