FOR PIEDMONT HOSPITAL EMPLOYEES & CONTRACTORS' Kiddos
Three Locations: Fayetteville, Henry County & Buckhead. (Contact Details Below)
Dates: March 16 - May 22 | Monday-Friday (We are NOT offering Summer Care)
Times: 6:30a-7:30p
Ages: 4 years - 13 years
Our ratio is 1 teacher to 10 children. We are unable to accommodate children who need smaller ratios
Kiddos  priority is the safety of our kiddos, teachers and their families.
We plan to have between 10-35 campers at each location & each location has great space transformed for kids. Each kiddo participates in study hall, they bring their tablet, laptop or books so they can participate in their schools online learning plan. Activities planned that maintain minimal touching or being in each others space, all while kids are having a blast.
Piedmont Employee cost is nothing, as it is covered by Piedmont.
Piedmont Contractors cost is $260/wk per child. If you need to inquire about partial scholarship we may be able to consider with notice.
We welcome parents to call us for questions or stop by to check us out.
Check out a few pictures below to see the spaces we are using!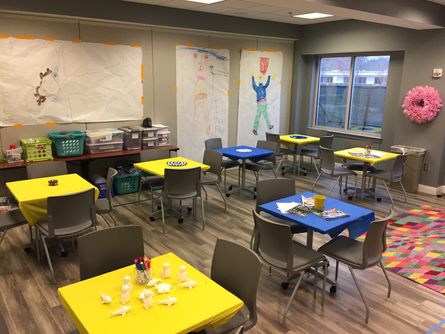 WHAT YOU NEED FOR A DAY @ PIEDMONT CAMP:
Upon Entry all Piedmont Employees/Contractors and their children will have there temperature taken with no touch thermometer and answer questions. Teachers do the same.
Pack a Peanut Free Sack Lunch (and breakfast if needed). We will have Breakfast around 7:30am and Lunch around 11am. We provide 2 snacks throughout the day and lemonade with lunch. Label all "peanut butter looking" items or they will be thrown out (Ex. sunbutter & Jelly)
Bring School Materials, including iPad/Laptops needed for your child's schooling. We will have two study hall periods, and can accommodate logging into live classrooms if required by the school. Teachers are there to assist or offer other learning opportunities if no assigned school work.
For Kids 3rd grade and up, we suggest bringing books that are age appropriate, especially if chapter books. We do have great books available for Pk-3rd from library.
Parent Schedules - we encourage parents to let us know if their schedule changes. We can accommodate if missing a day or adding one. Please give as much notice as possible so we can have teachers ready.
Once you register you will receive a confirmation email and then a guide explaining where pick up is.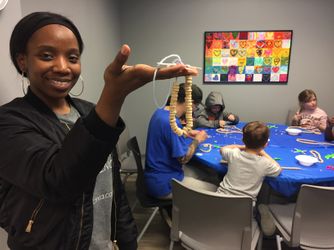 Safety Measures In Place:
We will monitor for fever through out day. Children, Teachers and anyone entering the space must have temperature checked.
In addition, Kids exhibiting symptoms of lethargy or cough will have to be sent home. We will use an abundance of precaution when sending kids home, and not allowing to return until symptoms have subsided.
Our Experienced (Energetic) Teachers have all worked at Kiddos during the school year, have national background checks, State Training, CPR/First aid certified, have been trained on cleaning during COVID 19 and have agreed to social distancing even when not at camp. (and are among the best teachers at Kiddos!)
Cleaning the Space: Each location was deep cleaned by professionals prior to opening for Kiddos to take over the space. We clean & disinfect the space through out the day ensuring door knobs, table tops, etc are given special attention.
Cleaning Supplies: We have chosen activities that minimize contact and that use supplies that can be easily cleaned. For example were not offering Drama or Play dough, because hard to clean those through out the day.
Cleaning Humans: Children & Teachers must use hand sanitizer before entering, and wash hands using SOAP & Water after each period (35-45 minutes), in addition to the other standard times of washing (before/after snack, bathrooms etc).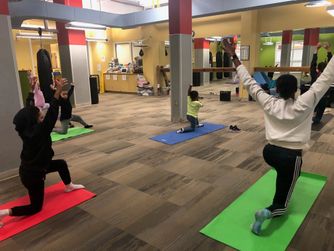 Contact Info
Kiddos Main Office:
Chay Westbrook- 404.955.3184 or Info@KiddosAtlanta.com
Atlanta, Piedmont Fitness Gym:
2001 Peachtree Road NE, Suite 100, Atlanta, GA 30309
Site Contact- Isabel Quillin | 404.922.8156 | texting is encouraged
Fayetteville Location (Run by iKids Llc.. Kiddos sister company)

1250 State Road Route 54 West, Fayetteville GA, 30214

Owner of iKids- Chameka Batiste | 770.875.0001| texting is encouraged
Henry County Education Center:
1133 Eagles Landing Pkwy, Stockbridge, GA 30281
Site Contact- Becca Cornwall | 404.821.8210 | texting encouraged
Kiddos Owner:
Lara Cornett- Lara@KiddosAtlanta.com