We will not be offering Break Camp for School Year 2022/2023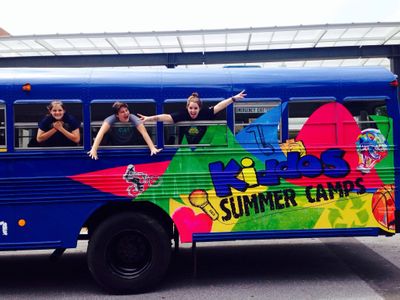 When school is out..... join us at Kiddos Break camp!
For Kiddos in Grades K-5th
A version of Kiddos that will be our same great team, same great quality and we get to use the Kiddos Blue School Bus to take 40 kiddos on field trips and explore the outdoors everyday. Your kiddo will also enjoy local parks for lunch, crafts, sports and we throw in other Kiddos style fun!
Please read THIS prior to Registering
We have a VERY strict behavior requirement and this camp is not a good fit for all students due to being on public field trips each day, a lot of moving around and not having a set routine. Your Kiddo MUST be able to Listen to directions and follow them, be kind to others, be okay with no routine and STAY with the group in a 1 to 10 with minimal redirection ratio.
**If your kiddo is still working on these skills please reconsider or call us to see if our Break Camp is a fit.**
There are no refunds if your child is removed from camp for behavior problems. Kiddos reserves the right to reach out to parents if we feel it would be unsafe for your kiddo to join us on this type of camp.
All Field Trips are subject to change due to weather
Registration closes when full OR the Wednesday prior to each Week if not full.
For safety reasons we are not able to have Pre-K students or students in Middle School at Break Camp.
$75 Non refundable Deposit due at Registration to hold space. Balance Due Thurs, March 19.
**FULL ** APRIL 6-10, 2020 | Puppetry Arts, Hiking, Trampoline Park, Roller Skating & Zoo Atlanta
Pick up and Drop Off: E. Rivers Elementary, 8 Peachtree Battle Ave
Enrollment Options: WEEKLY enrollment only (we do NOT offer partial week)
Partial Days: 7:45a-3:30p $265 | Additional siblings $215
After Camp:: 3:30p-6p +$20/per child